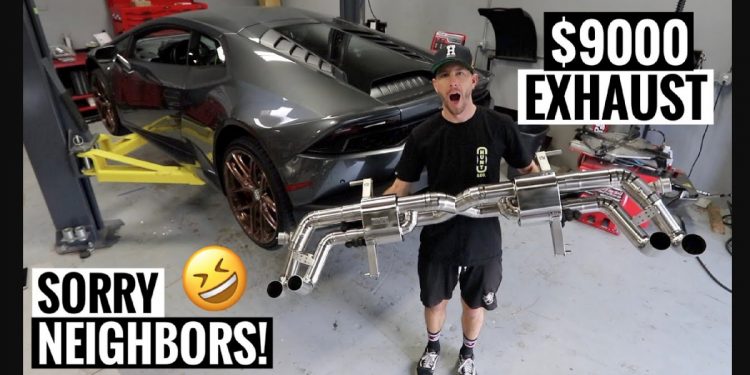 Armytrix has garnered a solid reputation in the automotive world with its impressive line of exhaust systems for a variety of exotic models. These systems are particularly known for their head-turning soundtrack, in addition to delivering horsepower and torque gains in a lustrous titanium package. That is probably why vehicle fanatic, TJ Hunt, chose Armytrix for his very own Lamborghini Huracan LP610. After all, Armytrix is certainly at the top of the top and a car such as The Raging Bull deserves nothing but the best.
The Armytrix Titanium Exhaust System for the Lamborghini Huracan delivers power gains of about 24 horsepower and 23 Nm of torque, along with a weight reduction of 18 kilograms. As with all Armytrix exhausts, this Valvetronic system gives you the option of switching between quiet and loud modes with the push of a button via the included remote or through the smartphone app. The best part? Even at its loudest, the Armytrix Exhaust for the Lamborghini Huracan LP610 does not produce any unpleasant drone in the cabin at highway speeds – as you will see TJ Hunt mention in the clip below.
In the video below, TJ Hunt installs the newly acquired ARMYTRIX titanium exhaust on his Lamborghini Huracan LP610. The globally renowned and unique exhaust system allows him to control the volume by opening and closing the valves. As per usual, TJ Hunt and his crew assembled the exhaust system themselves and let you get in on the action (and shenanigans) of the behind-the-scenes work. Watch as TJ Hunt and the team revel at the ravishing effects of the breathtaking difference an Armytrix exhaust truly makes as they take the beast on the freeway.
Includes:
Titanium Series x Pipe Mufflers
Valvetronic tailpipe section
Wireless Remote Control Kits
Quad Titanium Blue Tips 4x101mm
Features:
LP610-4 5.2 V10

Power (HP): 24.1
Torque (Nm): 23.5
Weight Saving (-Kg): 19.2

Real-time Update of Selected Categories
Quick & Accurate Data Logging
App Controlled Valve System via OBDII Port
View Install Instructions Here.
Fitment:
2015-2020 Lamborghini Huracan LP610
If you have any questions about Armytrix or its products, feel free to contact us. You can reach us by phone at 1-480-966-3040 or via email at sales@vividracing.com.