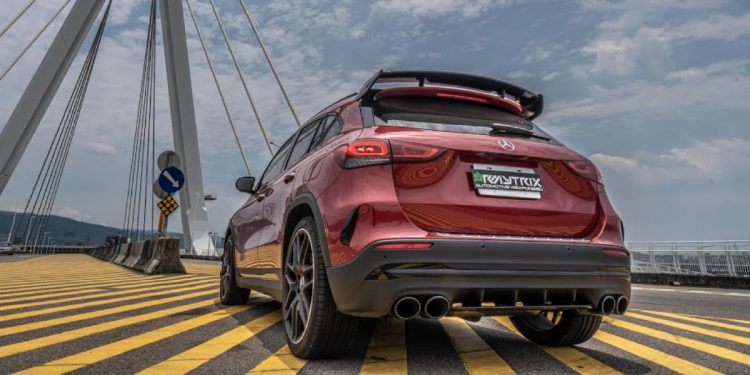 The highly popular Armytrix Valvetronic Exhaust System is now available for 2020+ Mercedes-AMG GLA45 / GLA45 S 4Matic models. Armytrix has a solid reputation for bringing the finest exhaust upgrades to the aftermarket industry for a wide range of makes and models. This system for the GLA45 AMG consists of a Cat-Back Valvetronic Exhaust with High-Flow Performance De-Catted Downpipe with Cat Simulator. Skip down to the video at the end of this post to revel in the pure exhaust sound this system brings with both opened and closed valves. Watch as it does a drive-by with the tantalizing pops and crackles (especially in between shifts) that enthusiasts crave.
Each Armytrix exhaust system was meticulously designed and precisely calculated to deliver the best possible product under strict protocols and to the highest of standards. The fabrication process is handled by master craftsmen with extensive experience in both titanium and stainless steel exhausts. With that said, the quality of the TIG welds on the notoriously difficult titanium is beyond stunning. All in all, when you choose Armytrix for your Mercedes-AMG GLA45, you are choosing a well-made, precise and versatile exhaust system that was manufactured with the performance-oriented enthusiast in mind. This exhaust checks all the boxes and does not cut corners in any way.
For this system, Armytrix took away the unnecessary weight from the GLA45's stock system to deliver a durable and lighter exhaust that delivers the perfect harmony of good looks, bold sounds, and optimal performance. Just one glance at the masterfully welded connections in the parts and you know that you are getting a high-quality system expertly engineered from the front all the way to the rear exits. This entire package functions as a single-minded unit to boost your Mercedes' power and sound and transform the entire driving experience. The smooth flow delivers considerable horsepower and torque gains without either one suffering much from backpressure. This system will be music to your ears across the GLA45's entire rev range to provide stimulation like never before. You will no longer have to pick between having a quiet exhaust or a more explosive-sounding one. With this Valvetronic system, you can control the valves to tailor them to your preference when you want.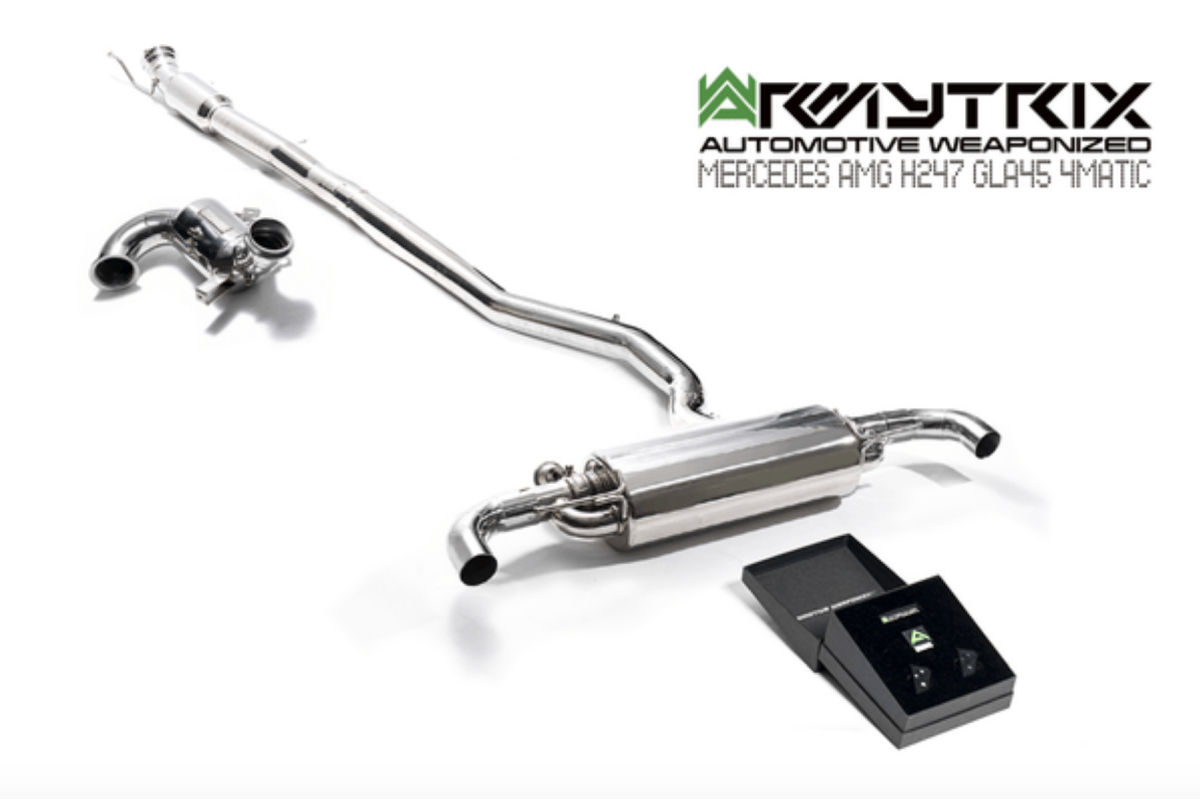 System Details:
The Mercedes AMG H247 GLA45 S 4Matic spotlights a second-generation design revised from the previous model. The 2.0L engine and four-cylinder turbo engine deliver agile drive power with speeds up to 4.4 seconds and 250 km/h. Adding to the substantial performance figures, the stock exhaust system offers sound ranges from comfortable and discreet to a more aggressive mode depending upon the choice of drive.
Armytrix has taken that to new levels with its Valvetronic System which offers even greater power for the AMG sports car. This time, the company has launched a turbo-back Valvetronic exhaust system that is compatible with both OPF and NON-OPF versions of the GLA45. With Armytrix's OBDII control module, you can experience neighbor-friendly or beast mode whenever you want. In addition, this system adopts the interactive valve control technology that matches with stock control. Thus, cutting-edge technology allows for the valves to open and close in accordance with the mode selected by the driver.
Other Products for GLA45 AMG:
If you have any questions about Armytrix or its products, feel free to contact us. You can reach us by phone at 1-480-966-3040 or via email at sales@vividracing.com.
Notes: This set also comes with Carbon Tips available to install on the stock diffuser. The vehicle in the video did not install the carbon tips.