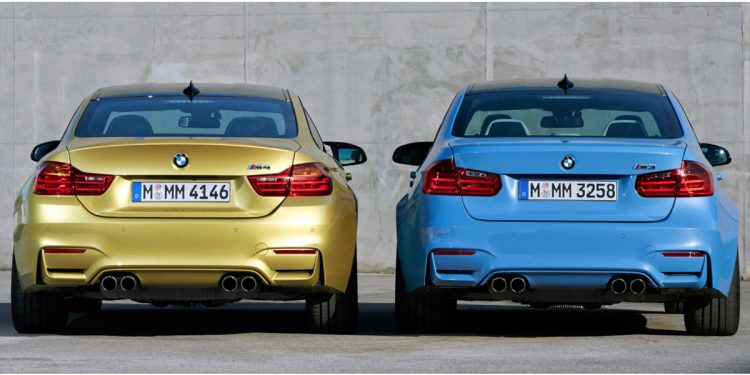 Back in 2014, at the North American International Auto Show (NAIAS), the new BMW M3 officially premiered. At the same time, the first BMW M4 hit the spotlight with the German marque separating the Coupe and Convertible from the Sedan. Technically, there was a further innovation in the BMW F80 M3 and F82 M4: for the first time in the series' history, there was a turbocharger under the muscular hood with the inline six-cylinder engine (S55B30). The goal was to combine the benefits of a high-performance, naturally aspirated motor with the strengths associated with modern turbo technology.
Even with an impressive factory output of 431 horsepower and 406 pound-feet of torque, many owners itch to squeeze out even more power from the engine. After all, factory exhaust systems are designed to maximize horsepower while keeping engine noise to a tolerable level. While this is acceptable for the average consumer, it leaves much to be desired in the hands of the automotive enthusiast. For those dedicated to unlocking the potential performance and excitement in their BMW, a powerful and loud aftermarket exhaust system can make all the difference. The following is a list of the top 5 best exhaust options for the BMW F80 M3 and F82 M4 based on their power gains, exhaust notes, aesthetics, and overall construction.
1. VR Performance Titanium Exhaust System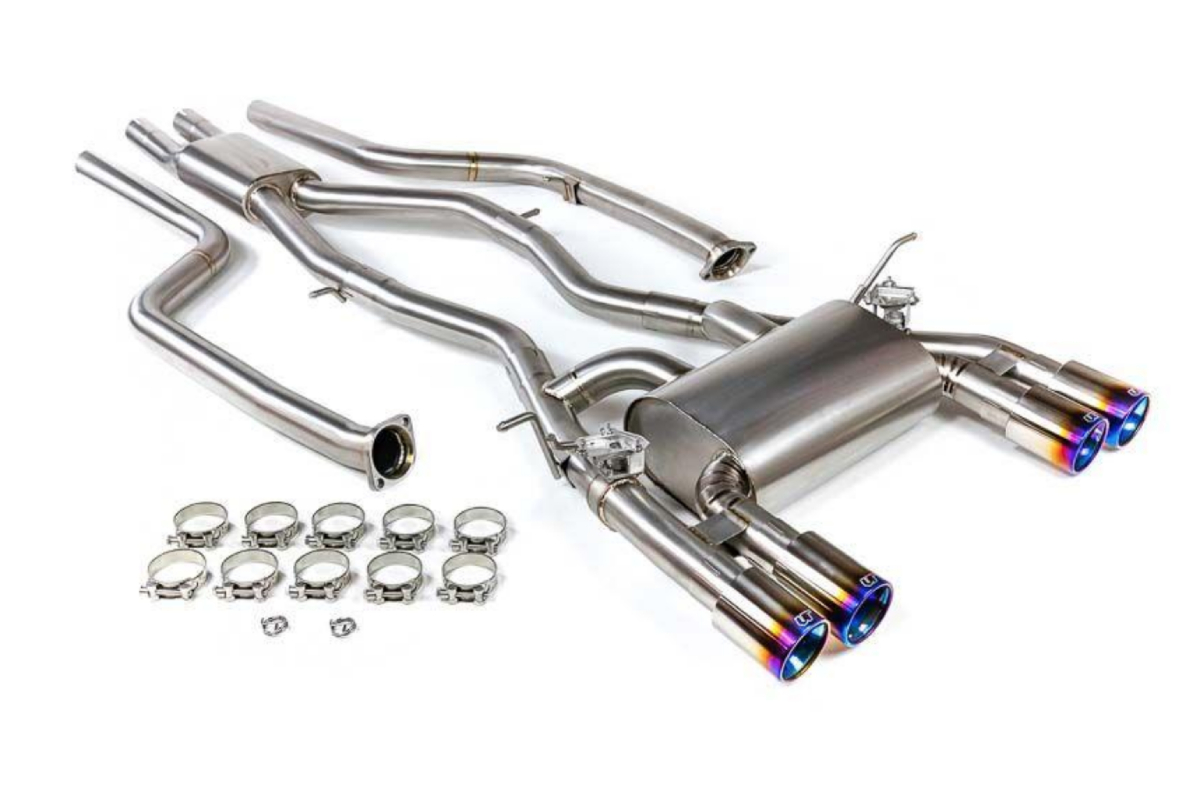 The VR Performance Titanium Exhaust for the BMW F80 M3 and F82 M4 was born from precision structural and sound engineering. It was built specifically for these models to deliver increased sound and performance that will get you noticed as you zip by. Crafted from authentic high-quality titanium, this pie-cut system with mandrel-bent tubing combines the best of enhanced performance, unmatched exhaust tone, and a solid overall construction that is made to last.
This exhaust has been tuned to perfection and designed to elevate your BMW M3 or M4 to the next level with incredible sound and styling. The VR Performance exhaust produces a refined sound output that encompasses the sporty note of the S55B30 engine that can be found under the hood. Thanks to the Valvetronic design, you can change your M3 or M4 exhaust note with just the push of a button to switch between mild and wild modes. Best of all, this is a complete bolt-on exhaust that directly fits in place of the factory one without any cutting or welding needed.
The VR Performance system features a true dual 2.5-inch diameter and 0.4mm thick piping to ensure optimal airflow without sacrificing weight. The mandrel-bent and pie-cut titanium construction of this system allow for a "best of both worlds" situation for any BMW enthusiast as you reap the benefits of the advanced build without having to worry about any excess stress or weight to the vehicle. In fact, this system weighs in at just 51 pounds – that's super lightweight compared to stock! At the rear, this exhaust features quad 3-inch burnt titanium tips to give the back end a more customized and sporty appeal that shows you mean business.
Features:
Total weight is 51.05 pounds
Super lightweight compared to stock
Delivers a fantastic exhaust note
Increases horsepower and torque
Features Valvetronic functionality
2.5-inch Diameter, 0.4mm thick piping
Made using high-quality titanium
3-inch Burnt titanium exhaust tips
Direct-fit, bolt-on installation

2. Eisenmann Axleback Exhaust w/ Signature Tips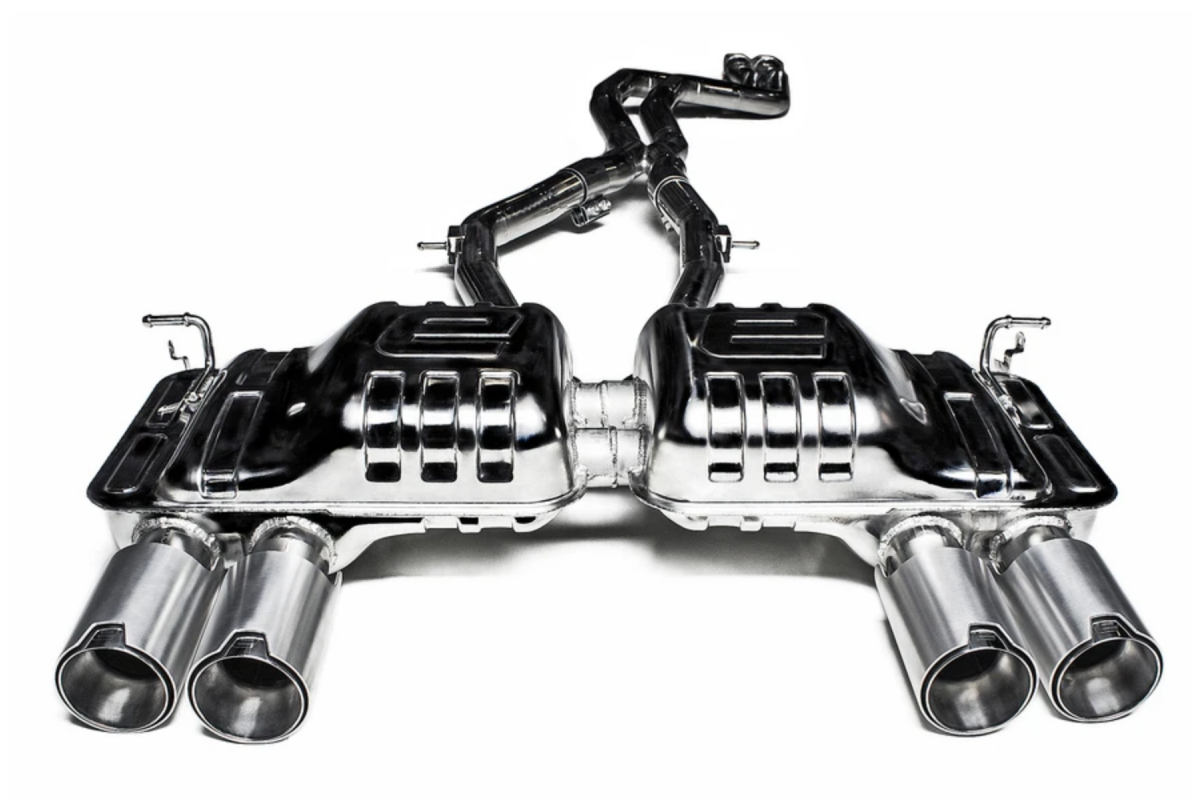 Eisenmann's Stuttgart-based engineers are responsible for designing the OEM systems found on Porsche and AMG cars. They use this exact experience to design some of the greatest performance exhaust systems in the world. Eisenmann exhausts are built by hand from start to finish to create old-world craftsmanship that is simply unmatched on the automotive aftermarket. That being said, the Eisenmann Axleback Exhaust with Signature Tips will not only add attractive styling to your M-powered vehicle, but also deliver unparalleled performance, power gains, and overall premium construction that other competitors simply cannot match up to.
The construction of nearly all Eisenmann exhaust systems, both externally and internally, is made up of 100 percent lightweight, high-grade T304/T306 stainless steel throughout. Not only that, but its engineers paid specific attention to factors like wall thickness to create the best balance of reduced weight and an amazing sound. The canisters are machine-pressed into a shape specifically designed for the F8X M cars using a series of deep draw dies, which results in extremely high rigidity and contributes to that iconic Eisenmann tone. The canister shape was strategically created to completely eliminate the canisters from the rear view of the car, drastically improving the appearance of the BMW F80 M3 and F82 M4 models.
If you are looking for a premier exhaust manufactured by a brand that has leveraged over 30 years of heritage, Eisenmann is the brand for you. The design of each system from the tube configuration and the size of the muffler and box dimensions are meticulously calculated and optimized to provide maximum performance across the entire rev range, drawing on Eisenmann's vast Motorsport experience. Multiple internal flow paths work together with BMW's Sport, Comfort, and Sports Plus ECU programming, and enable Eisenmann's valve control to have a variable and drastic effect on the exhaust's personality. This works to yield a quiet tone during cruising with in-cabin comfort, as well as a full-on growl when you truly step on the gas.
Features:
Lightweight, high-strength construction
Signature exhaust tips for added styling
Quad 90mm round exhaust tips (4x90mm)
Max horsepower and torque gains in all driving conditions
Laser CNC machining and sheet-metal processing

3. Armytrix Valvetronic Cat-Back Exhaust System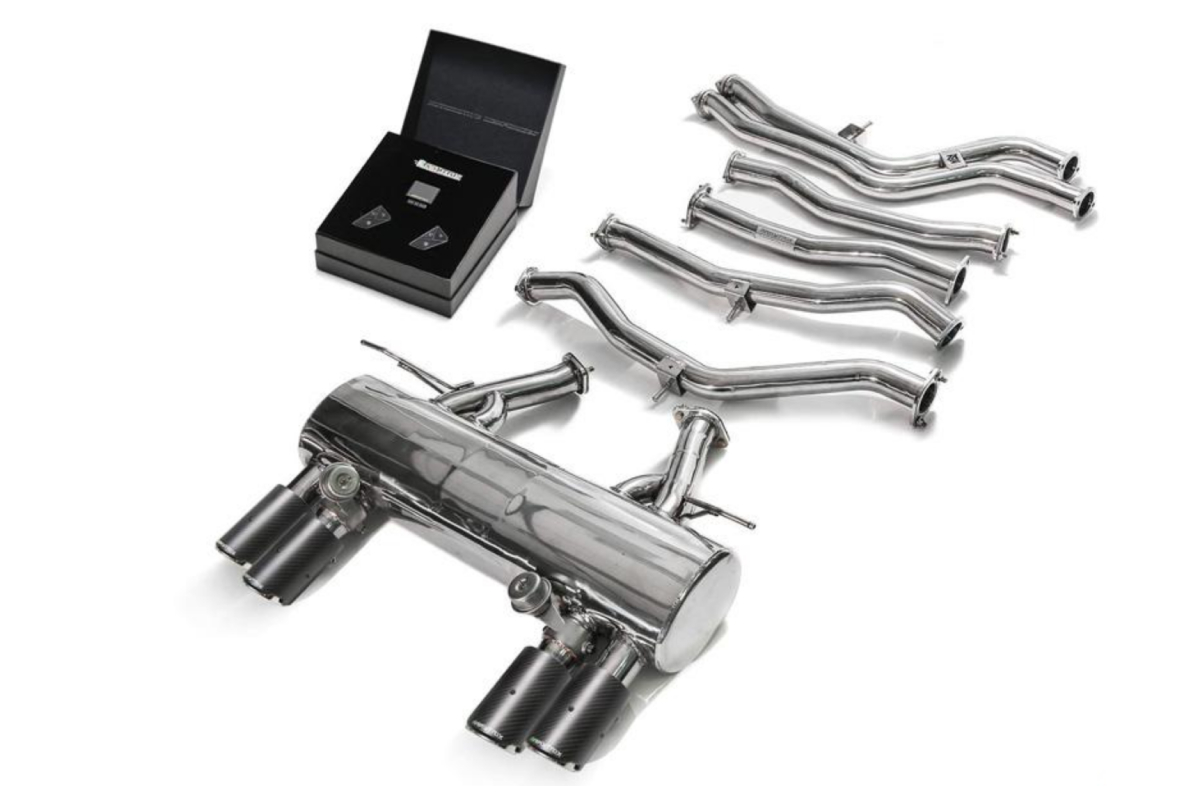 With the Armytrix Valvetronic Cat-Back Exhaust, you can access the extra power left behind by the factory exhaust from a beautifully constructed and highly capable system without committing to a grimacing exhaust tone all the time. Simply use their exclusive OBDII dongle to pair with your smartphone and flip the valves open for all the glorious sound and power you want, or close the valves for a subtle stealth mode when you need it. This cat-back system offers the best of both worlds in terms of power and sound, allowing you to control your driving experience right from behind the wheel of your BMW with ease. Armytrix is well for designing one of the best high-flowing exhaust systems on the market, so give your BMW M3 or M4 the vocal upgrade it deserves while maintaining distinct styling with this beautifully crafted Armytrix Valvetronic system.
To harvest the full potential of your F80/F82 BMW engine, Armytrix uses high-quality T304 stainless steel, forged with the most advanced technologies and by the highest standard, to build its highly popular Valvetronic exhaust. Meticulously engineered, this system handles increased volume with enhanced efficiency to squeeze out extra horsepower and torque via a high-flow design that appeals to all of your senses when you step on the gas. If you are looking for a system to provide you with more freedom than ever and an auditory sensation throughout the entire rev range, this is the product to get your adrenaline going.
The exclusive ARMYTRIX OBDII dongle system reduces the installation time by 50 percent! With clear displays and user-friendly controls, navigate through the brand's app to gain an insightful look into your car's real-time operational status and enjoy complete control over the valve settings. Armytrix has tailored each exhaust to carry the maximum payload to be delivered to thunderous effect. The result is a lighter, more streamlined system that is rid of the OE deadweight and offers an unrestrictive flow to improve overall efficiency and deliver power gains across the RPM band.
Features:
Power Gains (HP): 22.5
Torque Gains (Nm): 30.3
Weight Savings (-Kg): 3.5
Precision-crafted T304 steel construction
Straight pipes let out a vicious scream and ferocious power
Valve-controlled OBD2 module for quick and easy installation

4. Fabspeed Valvetronic Exhaust w/ Black Tips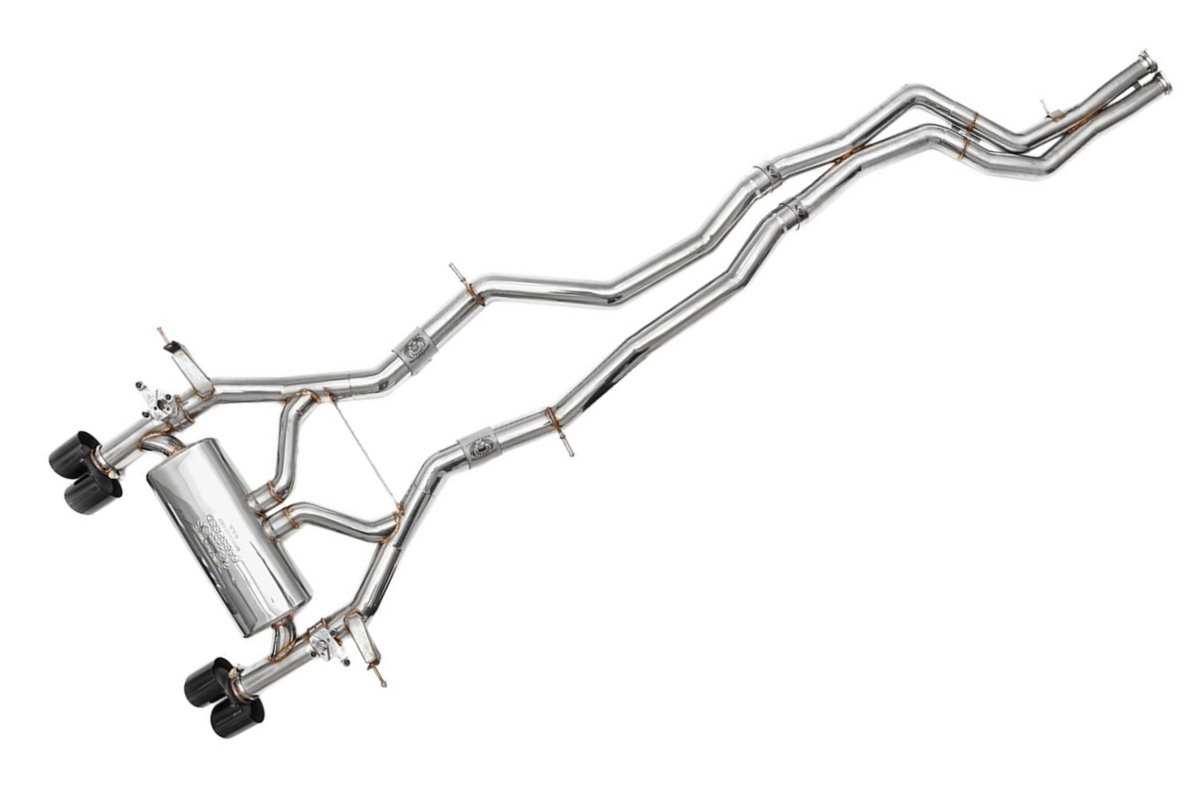 The Fabspeed Valvetronic Exhaust is the ultimate cat-back system for the Ultimate Driving Machine. This package includes Fabspeed's high-performance Valvetronic rear muffler and exclusive "Double-X" mid-pipe for the perfect combination of sound and power. Fabspeed Motorsport elevates the exotic car experience through personalized performance and an impressive line of product options and configurations that are unmatched on the aftermarket. After all, Fabspeed has been engineering and manufacturing the world's finest stainless-steel high-performance exhausts for over 20 years. Its dyno-proven performance products provide a driving experience unlike any other out there and all systems come backed by a Limited Lifetime Warranty.
Fabspeed strives to be a force of innovation within the industry, showing an unwavering commitment to maximum performance, impeccable products, and excellent service. The company's goal is to offer quality exhausts that not only provide enhanced performance and higher power figures, but also reduced weight, added styling, and a head-turning sound. The Valvetronic Exhaust for the M3 and M4 weighs in at just 62 pounds (rear section is 33 pounds and mid-pipes are 29 pounds) compared to the factory BMW system that weighs 69 pounds. Maximum gains are measured at 19 whp and 31 lb.-ft. of torque at 3300 RPM.
The Fabspeed Valvetronic Cat-Back features the world's first and only "Double X" mid-pipe design which includes two "x" sections for increased exhaust scavenging. This, consequently, results in the smoothest possible exhaust tone with the least amount of rasp and drone. The exhaust is expertly crafted in-house at Fabspeed from 16-gauge .065-inch thick CNC-mandrel bent T304L stainless steel in 2.75-inch diameters for the highest strength and durability. The integrated muffler valves include machined mounts for the factory actuators, allowing for the retention of BMW's stock valve functionality. What's more, this system comes with deluxe quad-style tips for the ultimate in styling that matches the natural DNA of the M3 and M4.
Features:
World's first and only "Double-X" mid-pipe
Weighs 62 lbs total compared to stock 69 lbs
Increased exhaust scavenging with smooth exhaust note
Includes deluxe quad-style tips (black chrome tailpipes)
Constructed 16-gause/.065″ thick T304L stainless steel
CNC mandrel-bent tubing for ultimate durability
Integrated muffler valves include machined mounts
Allows for the retention of factory valve functionality
Adds 19 whp and 31 ft/lbs of torque at 3300 RPM

5. Akrapovic Slip-On Line Titanium Exhaust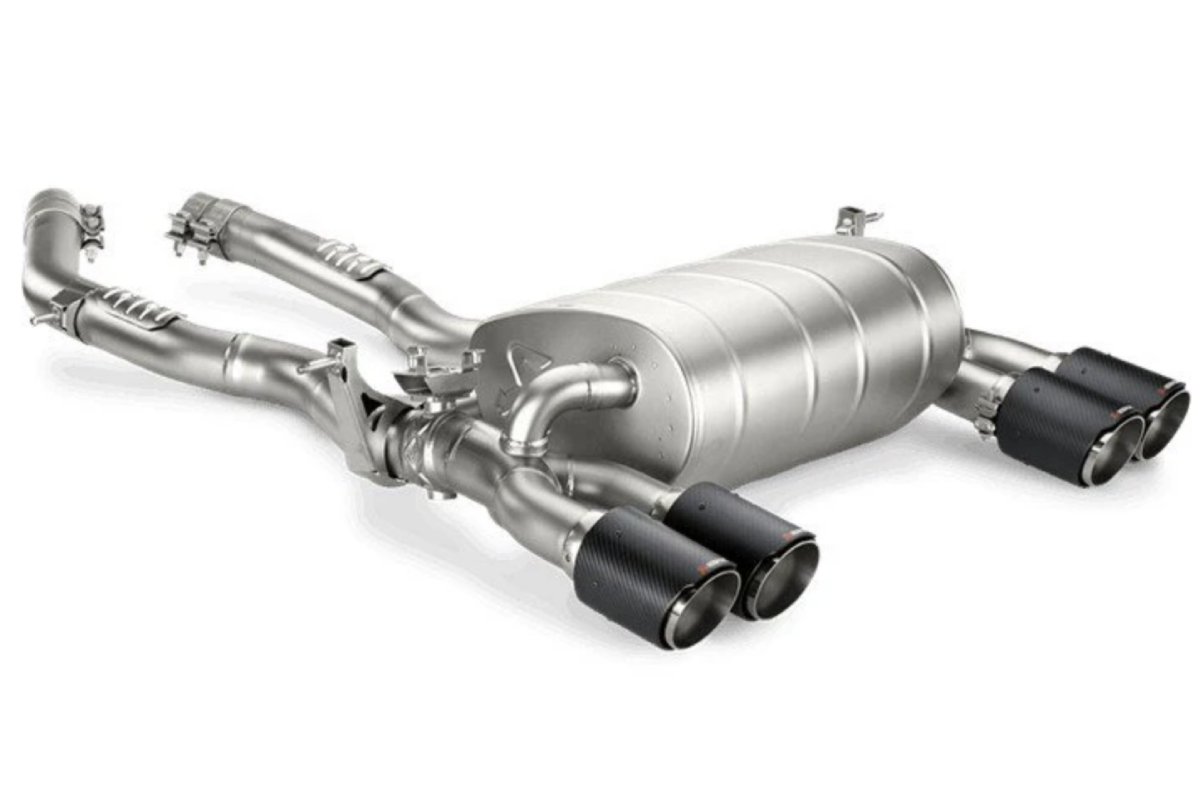 The latest addition to the BMW M-Series is the awe-inspiring M3/M4, an exquisite high-performance car that can be made even better by adding an Akrapovic Slip-On exhaust system. The Akrapovic Slip-On Line Titanium Exhaust System for the F80 M3 and F82 M4 is the first step in exhaust tuning. Crafted from high-grade titanium, which considerably reduces the weight in comparison to the stock BMW system, this exhaust been perfectly designed to fit directly onto the existing link pipes. The system increases power and torque across the rev range, provides better throttle response, and enhances the look and sound of your car. The Slip-On Line system has four valves, designed for the first pair to operate in four-cylinder mode and the second set to come into action according to the driver's specifications. The system was specifically developed to be compatible with the car's drive mode selector
This titanium exhaust system is designed to handle the rigors of high-performance engines such as the one found in BMW's renowned M3 and M4 models. It was also built to deliver better resonate sound and faster acceleration to take your driving experience to the next level. This system has bigger pipes than the stock exhaust, yielding lower backpressure and more power, especially at lower RPMs. This system boasts a completely new design, and will reduce overall vehicle weight and deliver extra power and a sporty sound, which has been tailored to highlight lower frequencies and increase the listening enjoyment. Improvements in both power and torque add to the sensory experience, combined with improved agility to transform the way you drive your BMW. The look of the Slip-On system can also be further enhanced by adding titanium or carbon tailpipes and the stunning carbon-rear diffuser. An optional Akrapovic Sound Kit is available to control the different sound settings.
Features:
Made from high-quality titanium
Bigger pipes than stock exhaust
Lower backpressure and more power
Increases both horsepower and torque
Homologated version available
Max Power: 389.1 hp to 394.5 hp at 6050 RRPM
Max Torque: 416 lb.-ft. at 2600 RPM