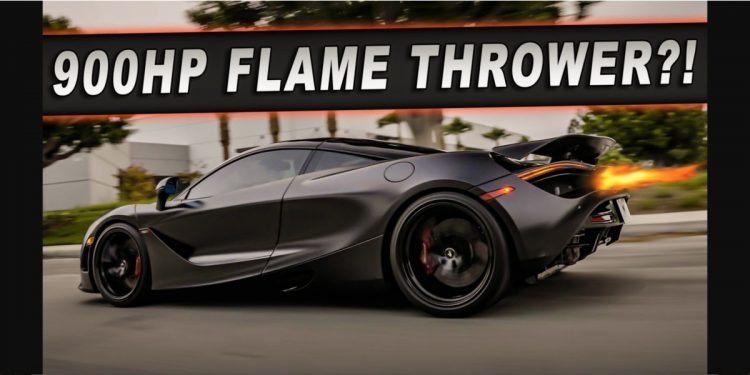 Vivid Racing works on a lot of cool projects here and this one is definitely up there with some of our favorites. We took reality superstar, businessman, and car fanatic Scott Disick's beautiful McLaren 720s and turned it into the ultimate beast with a whopping 900 horsepower. With the addition of the best exhaust system by Armytrix and an incredible ECU tune, this 720s not only sounds great but can completely destroy 1/4 mile times! Big shoutout to World Motorsports in California for installing this remarkable package on the 720s and throwing it on the dyno to demonstrate those newfound power figures. The result? Scott Disick's McLaren 720s is straight fire with 900 horses to back that up. Check out the video below to see the parts up close, the installation process, the dyno chart, and the end result which is bound to blow your mind. Get ready to hear all the pops and bangs and see some flames.
Armytrix is world-renowned for producing some of the best-looking and best-sounding exhausts on the market crafted from the highest-quality materials that result in a system built to turn heads for years and years to come. Scott Disick's McLaren was treated to Armytrix's full stainless-steel Valvetronic exhaust with dual carbon tips that effortlessly complements the stealthy appeal of his ride. This precision-made performance system delivers more power, especially in the low and mid rev range, with a great effect on the sound it emits. While this exhaust delivers a deep and resonant sporty sound, it still neutralizes those less-than-desirable frequencies in the most critical rpm range.
In addition to a whole new exhaust system, this McLaren 720s received M Engineering's Stage2+ Power Package. From the leader in aftermarket injector technology, this package consists of a motorsports-grade quality wiring harness, M-Tuner Suite and M-Tuner Motorsport tuning package, and Injector Dynamics ID1050x injectors. With this kit, you are able to run on E85 and fully maximize the potential of your car's turbochargers on gasoline-based fuels. So you can get E85 from the pump and enjoy the same performance benefits as those running MS109, GT260 Plus, and other race fuels. The live map switching functionality lets you easily switch between pump gas and E85 via the cruise control stalk.
Featured Products:
Armytrix Stainless Steel Valvetronic Muffler (Buy It Here!)
Armytrix Dual Carbon Tips (Buy It Here!)
Armytrix Ceramic Coated Race Downpipe w/Cat-Simulator (Buy It Here!)
M Engineering: McLaren M840T – Stage 2+ Power Package (Buy It Here!)
PHOTO DUMP!